Frequently asked questions
Implant Dentistry
Dental Implants
Dental implants are designed to provide a foundation for replacement teeth which look, feel, and function like natural teeth. The person who has lost teeth regains the ability to eat virtually anything and can smile with confidence, knowing that their teeth appear natural and that facial contours will be preserved.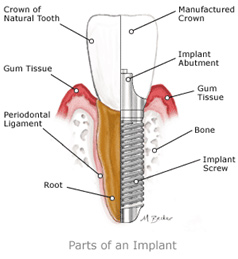 The implants themselves are small titanium posts which are placed into the jawbone where the tooth is missing. The bone bonds with the titanium, creating a strong foundation for artificial teeth. In addition, implants can help preserve facial structure, preventing bone deterioration which occurs when teeth are missing.
Dental implants are changing the way people live. With them, people are rediscovering the comfort and confidence to eat, speak, laugh and enjoy life.
At this practice, Dr Leon Wijey has received extensive training in a variety of dental surgery procedures, including placement and restoration of dental implants. He keeps up to date with the most current information on implant dentistry.
When can a Dental Implant be used?
Replacement of a single tooth that is missing or will be lost in the future.

Replacement of multiple missing teeth
To replace a full denture with a set of teeth that are fixed in place.
May form part of a treatment plan with other procedures to improve a smile.
What is the process involved with getting a Dental Implant?
An initial assessment by the dentist including a complete examination so that a full picture of the condition of the mouth is obtained. Any radiographs (x-rays) and/or a CT scan of the bone is obtained to show available bone and to ascertain the positioning of placement of the implant.
During these consultation visits, your specific needs and considerations will be addressed by your dentist. Your questions and concerns are important to us and our team will work with you very closely to be certain you are well informed and that you understand all of your options regarding treatment.
For most patients, the placement of dental implants involves one or two surgical procedures. First, implants are placed within your jawbone. For approximately three months following surgery, the implants are beneath the surface of the gums gradually bonding with the jawbone. During the healing process a temporary denture or temporary tooth replacement is worn if the area is visible.
Despite what you might think, implant patients do extremely well during and after the procedure. It is routinely done in the surgery with local anaesthetic. A general anaesthesia is not necessary. When patients are called the day after the surgery, most report minimal or no discomfort.
After the implant has bonded to the jawbone, your dentist will be able to start making your new teeth. The teeth are fixed to the implants, and so feel as stable as your natural teeth. The entire process usually takes between four to six months. Most patients do not experience any disruption in their daily life.
If you are considering implants, call
03 533 SMILE (5337 6453)
to schedule a consultation with the dentist to see if they are right for you.