Meet the Team
Whether you're looking for an entire cosmetic dental makeover or a high quality general dentist for your regular cleans and checkups, we can help.
Our team of dentists are experienced in the latest proven techniques in general dentistry, and also have advanced training in implant and oral surgery, as well as cosmetic dentistry.
Standing - Dr Frank Noronha (Director), Rohit Budhwar (Director), Lilly (DA), Dr Gerrard Vippulananthan, Lauren (Practice Manager)
Seated - Dr Vandana Budhwar, Cindy (Reception), Tori (DA), Lilly (DA), Tye (DA)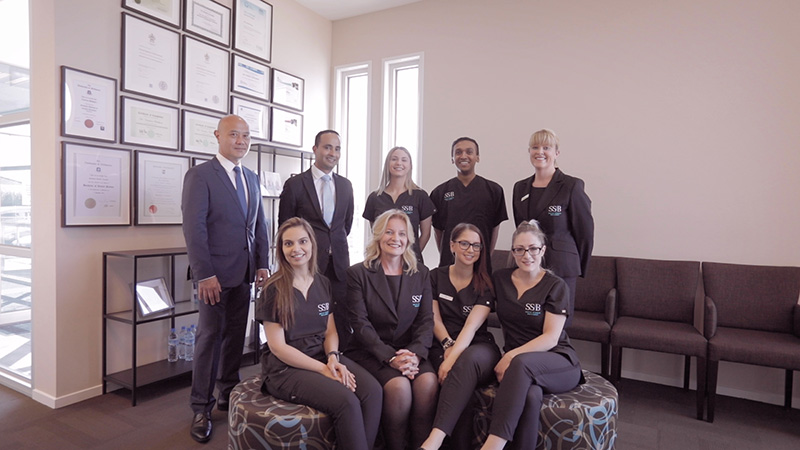 Dr Vandana Budhwar
(Principal Dentist)
B.D.Sc, Grad Dip Implants (Melbourne)
Dr Vandana Budhwar completed her dental degree in 2004. Following graduation, she worked at The Royal Dental Hospital of Melbourne as an 'Emergency Registrar' for 3 years.
Dr Budhwar has also practiced extensively in private practice across country Victoria and metropolitan Melbourne. She has taught and demonstrated to dental students at the University of Melbourne, and has completed a Post Graduate Clinical Diploma in Implantology.
Vandana is committed to delivering quality, evidence based comprehensive dental care to her patients and she has a special interest in periodontal and implant regenerative therapies, soft tissue grafting and reconstructive dental surgery.
Outside of dentistry Vandana enjoys spending time with her young family, keeping fit and reading historical fiction.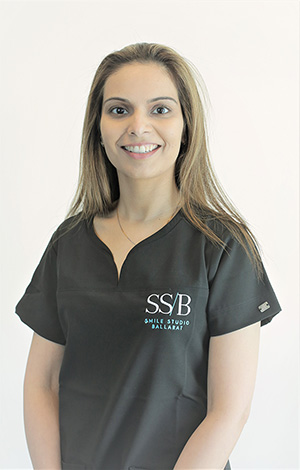 Dr Frank Noronha
(Principal Dentist)
B.D.Sc (Melbourne)
Dr Frank Noronha completed his Bachelor of Dental Science at the University of Melbourne. With almost 30 years of experience, he brings a wealth of knowledge to his patients. He also has over 20 years experience in Orthodontics and uses the latest techniques including fixed braces and the less invasive Invisalign.
In his spare time, he enjoys travel and dining with friends & family.
Dr Noronha is also fluent in Mandarin & Cantonese.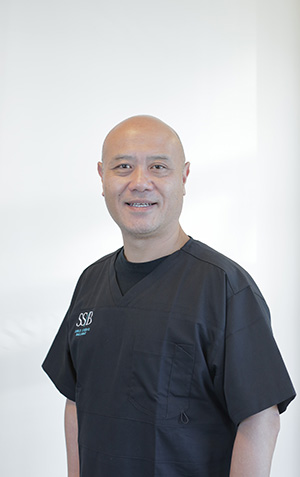 Dr Gerrard Vipulananthan
(Associate Dentist)
B.D.Sc (La Trobe)
Dr Gerrard Vipulananthan completed his Bachelor of Health Sciences in Dentistry/Master of Dentistry with La Trobe University Bendigo. During this time, he completed clinical placement in various rural Victorian towns including Ballarat and was drawn to return to Ballarat for its sense of vibrancy and sense of community. He is committed to lolally serving his patients to provide detailed and thorough care of their dental and overall needs. He believes in achieving this through an individualised partnership with the patient to optimise both the outcome, its conservation and the path towards getting these.
Outside of dentistry, Gerrard enjoys baking desserts, teaching little kids at church and exploring the latest concepts in interior architecture.
Dr Hillel NEw
(All on 4 Surgeon & AAFE Certified Cosmetic Consultant)
Joining the team as the All-On-4 surgeon in 2018, Dr Hillel New has been providing patients with dental care for 28 years. Graduating from the University of Melbourne Dental School in 1991.
Hillel began his surgical career with a 3 month oral surgery elective at the prestigious Royal London Hospital. There, he became immersed in oral surgery and was taught advanced surgical skills, not yet taught to his peers in Australia. Exposure to these surgical interventions fast-tracked Hillel's expertise and his motivation to move into private practice.
At his main practice CDIC in Malvern, Dr Hillel New continues to hone his skills, particularly in the area of major dental rehabilitation, cosmetic dentistry and laser dentistry. Known for his easy going nature and attention to detail, Hillel has a real passion for working with clients to achieve the best possible outcomes, offering a range of solutions to help them. Hillel's dental treatment philosophy centres around a commitment to evidence based dentistry and he holds the view that effective communication is the key to treatment success and good long-term patient relationships.
Under Dr New's guise, Smile Studio Ballarat was invited to become the Regional Consulting Centre For All On 4 Clinics.