TEEth Whitening IN bALLARAT AND ALFREDTON
The journey to a whiter brighter smile just got simpler. At Smile Studio, we understand the value of facial aesthetics, and that a good-looking smile is a big part of it.
If you're looking to brighten up your smile, get in touch with Smile Studio for our teeth whitening treatment.
Teeth whitening may not be the best choice for all patients due to several reasons. Before starting with any whitening procedure, we recommend that you discuss expected outcomes and eligibility with a dentist.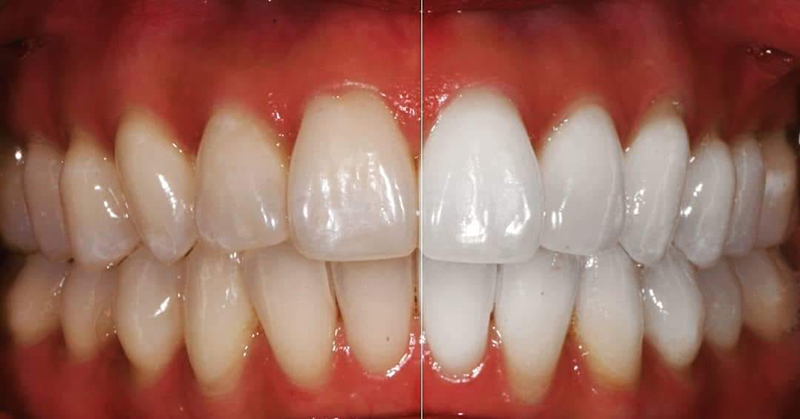 Preliminary Consultation
Every teeth whitening treatment at Smile Studio begins with a consultation session. Our expert professionals will walk you through the process and answer any questions and queries that you might have about the whitening treatment.
The consultation is a necessary first step where we assess your lifestyle and habits so that the treatment caters to your specific requirements. If there are serious underlying issues with your teeth and gum health, we may advise you to take care of that first before undergoing the whitening procedure.
You may choose to undergo the whitening treatment at home or in office.
At Home Whitening Treatment
After the preliminary consultation, our dentist will advise you on how to use the whitening products on your teeth, the duration to use them etc.
At home whitening is a relatively slow process, but it is a good option if you do not want to undergo the whitening treatment at the dentist's office.
Just follow our instructions precisely and you will soon be the proud owner of a dazzling white smile.
In Office Whitening Treatment
You may also choose to undergo teeth whitening at our clinic itself.
Our dental professional will commence the treatment by gently cleaning your teeth and gums. A protective formula is then applied on the gums, followed by the teeth getting evenly coated with a whitening gel.
The gel is then activated using LED lighting. This causes the stains to break down and whiten the enamel. The gel is applied every 15-20 minutes. The actual whitening procedure can last up to 90 minutes.
Post-treatment, our professionals give you after-care guidelines.
After-Care Procedure
Post-treatment, patients are advised not to consume staining foods or drinks for up to 24 hours minimum. Also, patients who are smokers are advised not to smoke as it would adversely affect the final results of the treatment.
Smile Studio has a range of specialist products specially formulated to keep your teeth white and in good shape for a long time.
Smile Studio is your first choice for teeth whitening because our services are long-lasting and affordable.
Get in touch with us today
If you are looking for a whiter brighter smile, book an appointment with us by filling the form online. You may also pick up the phone and call us or reach out to us via email. Our friendly staff will answer all your queries and set up an appointment.
Book your appointment with Smile Studio today, and smile with confidence!
Frequently asked questions
Please find here answers to some of the more common questions patients ask about our teeth whitening services. Of course, we are happy to discuss your particular questions and dental needs at your convenience - just call the office at 03 533 SMILE (5337 6453).
What is tooth whitening?
Tooth whitening is a bleaching process that lightens discoloration, and removes stains from the enamel and dentine of the teeth. It is one of the treatment options used to get you a whiter smile.
There are two types of whitening: One is an in-office procedure, that takes a little over an hour and also includes a home kit to continue the process. The other procedure employs an effective, powerful, yet mild solution retained in a custom tray that is worn over your teeth generally for an hour a day. Both processes have the same end result, so we find most patients prefer the convenience of a custom fitted home kit.
Neither bleaching procedure is known to harm the teeth or gums, if used correctly. Significant whitening can be achieved in the majority of suitable cases.
Why can only a dentist get my teeth their whitest?
The powerful whitening solutions can only be prescribed by a dentist and are not available over the counter. Prior to beginning treatment, we will examine your teeth and gums to determine whether you have any tooth decay, or any other contra-indications for tooth whitening.
What causes tooth discoloration?
There are many causes. The most common include aging, consumption of staining substances (coffee, teas, colas, and tobacco), trauma, tetracycline (antibiotic) staining, excessive fluoride, and nerve degeneration.

Who may benefit from tooth whitening?
Almost anyone. However there are some cases where the treatment may not be effective. Through a thorough oral examination, we can determine whether you are a suitable candidate for this process. If it is whitening will not get you the desired result, we can discuss the other options available for you.
Tooth-whitening is most ideal for patients who have healthy, unrestored teeth and would like to have a whiter, brighter smile. People with yellow or yellow-brown teeth tend to whiten best.
Multi-coloured teeth, especially if stained due to tetracycline, do not bleach easily. In addition, fillings, bonding, veneers and crowns do not bleach, and may need to be changed to match the lighter teeth once the bleaching is completed.
Do I need to have my teeth cleaned prior to whitening?
Yes, ideally a professional clean should be done.
If necessary, we will remove surface stains, and calculus (tartar) deposits that could hinder the process. Also, a professional clean will remove any irritants that may lead to gum sensitivity during the process.
After the clean, it will be your responsibility to maintain excellent oral hygiene, including daily flossing, to give the teeth and gums a chance to be their healthiest.
How white will my teeth get?
There are many factors involved including the cause, darkness, colour of the stain, and your consistency with the process. In the office we can show you some examples of what you might expect.
Also, we should note that occasionally some teeth don't whiten evenly; this is because the biting edges and the sides of the teeth whiten more quickly than the rest of the teeth. This occurs because your enamel is thinner in these areas and may respond better to the whitening process.
We will also let you know if there is a better option for you to get the result you are after.
Is the teeth whitening process safe?
Yes!
Research and clinical studies indicate that whitening teeth under the supervision of a dentist is safe for teeth and gums.
If you are interested in having your teeth whitened, please call us on
03 533 SMILE (5337 6453)
for a consultation and assessment by our dentist, who can formulate a treatment plan and determine if this treatment is suitable for you.